Early in her Saturday night set, Maren Morris took a quick poll, asking who in the large audience had never been to Seven Peaks before. Hands throughout the crowd shot up.
"I think the consensus is that this is pretty freakin' awesome," Morris surmised.
The size of the second annual Seven Peaks Music Festival this weekend grew tremendously compared to its inaugural outing last year.
Yet, aside from the kind of traffic pains that are unavoidable when thousands of people descend on one location at once, the production went smoothly by all accounts.
Cited trout angler and musician Dierks Bentley took the stage as exuberant as ever, closing out the festival Sunday night.
Bentley, who curated the festival with Live Nation, described his role with the event as "head bartender," but his hand was everywhere in the festival's character, bringing country both old and new and bridging the gap to bluegrass and beyond.
"I'm just doing this to have an excuse to come to Colorado over Labor Day," Bentley said.
Fishin' for a fine …
Bentley had received a citation from Colorado State Patrol for fishing in Cottonwood Creek without a license earlier that day, but he took it in stride.
"Actually appreciate the ticket," Bentley tweeted Monday. "Appreciate being treated like a regular person. Appreciate what @COParksWildlife does. I'll be licensed up next time."
Kevin Madler, CPW's district wildlife manager for Chaffee County, wrote the $139.50 citation for Bentley.
A gathering of campers
Among the many locals who walked the festival grounds, there was a consensus of amazement that such a large gathering was taking place right outside their town.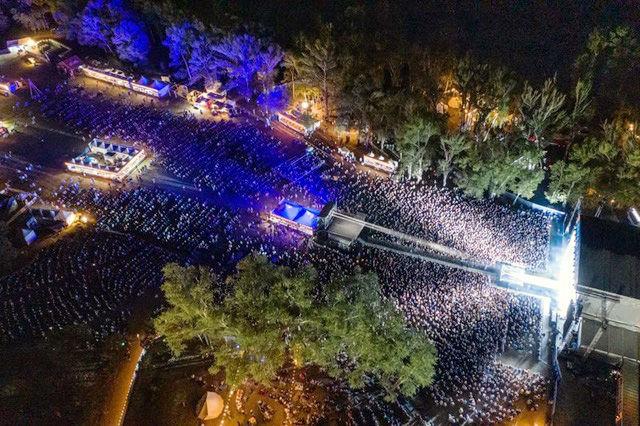 It was visually obvious from the side of the road that Seven Peaks had blossomed in size in its second year. The large eastern field along Crossman Ave/CR 350 was packed with a grid of RVs and cars all the way to the eastern edge of the Meadows property – a space that last year was half as full.
Sunday night, Bentley mentioned this feat again and asked the crowd "Is anybody here from Maine?"
And, with an affirmative whoop from somewhere near the stage, Bentley concluded that the entire Union was present at the Meadows.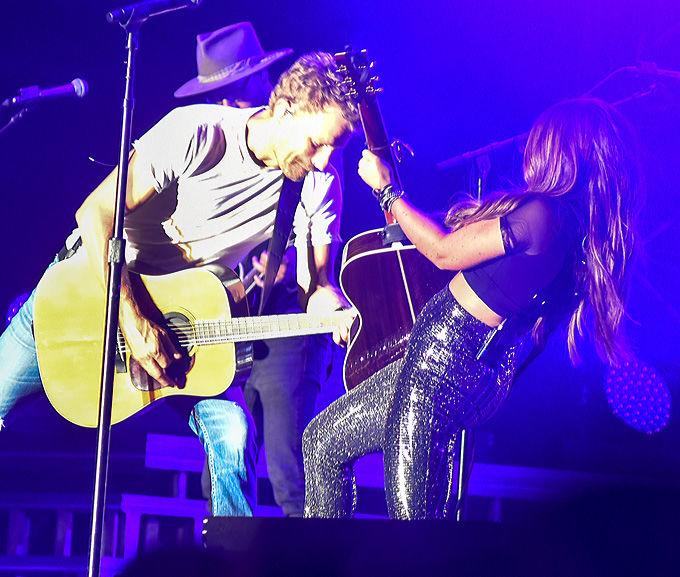 Canadian singer-songwriter Tenille Townes excitedly spotted a group of fellow countrymen during her set as well.
More fans this year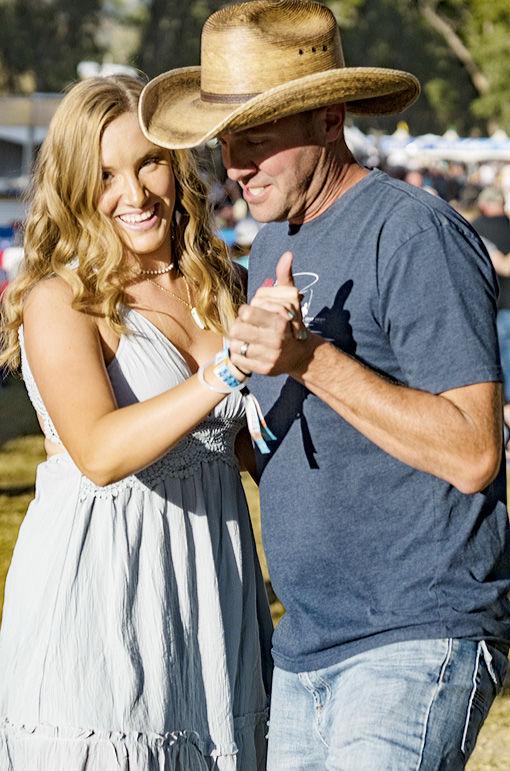 Chaffee County Commissioner Keith Baker said that he "hadn't heard from an authoritative (source)," how many were in attendance. "I've heard some pretty wild speculation."
Baker estimated based on ticket sales ahead of the event that attendance had grown by 40 to 50 percent.
Jim Reid, the festival's site plan manager for Live Nation, said Tuesday that the organizers were not prepared to release ticket sale numbers at this time.
Chaffee County Sheriff John Spezze estimated the size of the crowd around 13,000.
"This is the first year we should talk about maybe capping it, because I don't want to lose the vibe we have here," Bentley said Sunday, speaking in between shows at the Main Stage at 4:20 in the afternoon, heralded by the sounds of "High on the Mountaintop," bubbling water and vigorous coughing being played over the loudspeakers.
"A lot of inspiration for this came from a little place called Telluride and they cap it off at 10,000," he said, referring to the Telluride Bluegrass Festival. "So, maybe they know what they're doing."
During his Sunday night set, he urged concertgoers to bring their friends next year, but invite only a couple of really cool ones.
'A friendly gathering'
"Seven Peaks feels like we are all just getting to hang out with our buddies, in this crazy setting, and that is what makes it feel so special. I think Dierks has always been somewhat of an eclectic artist and he's never been shy to talk about his love for a lot of different forms of music," said Saturday night headliner Luke Bryan, in a news release issued by Seven Peaks Tuesday. "A lot of these artists are ones he's built real friendships with through his genuine love of their music and now he's able to use his platform to showcase so many diverse acts, no matter what genre they may be."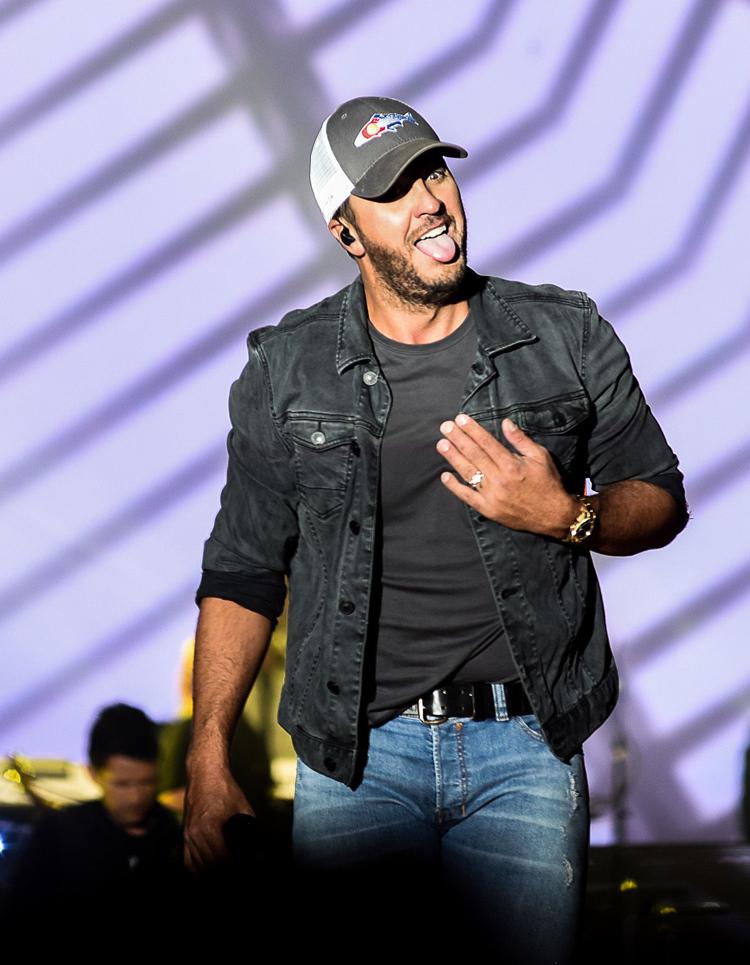 Bentley could frequently be seen in the wings of the main stage throughout the festival, looking much like the fans on the ground, grinning broadly and taking photos.
During the sets of Seven Peaks' bluegrass representation – bands like the Nitty Gritty Dirt Band, Steep Canyon Rangers and BV's own Rapidgrass – Bentley dropped in to play some songs.
With the Nitty Gritty Dirt Band blended bluegrass, blues and rock, with Jeff Hanna swapping out his acoustic guitar for a Les Paul several times during their Sunday evening set and fellow founding member Jimmie Fadden playing harmonica as he kept the beat behind a drum kit.
The venerable group was joined by Bentley and Michael and Tanya Trotter of The War and Treaty for "May the Circle Be Unbroken" and a barnstorming, greatly extended rendition of The Band's "The Weight."
'Rapidgrass for life'
Rapidgrass, which has the distinction of playing both Seven Peaks festivals, were given a lifetime pass to return to the event by Bentley when the swinging quartet played to a packed tent Sunday afternoon.
'We just played some of our classic Rapidgrass tunes," said guitarist and singer Mark Morris. "Right out of the gate it sounded really good."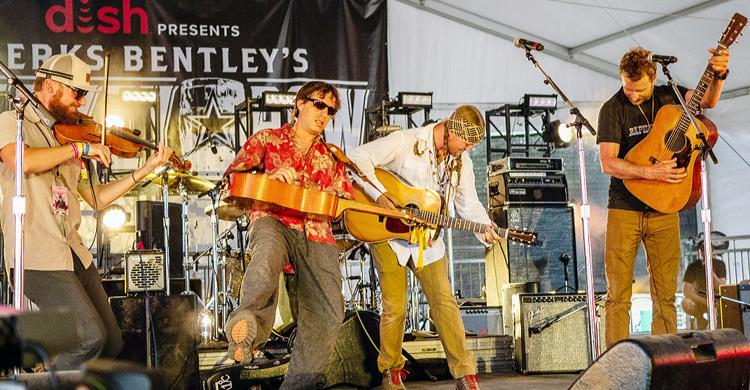 Mark Morris, Rapidgrass guitarist/vocalist, said he and Bentley became "immediate friends" when they were first introduced by Meadows landowner Jed Selby. Last year, Bentley sat in for several songs in both of Rapidgrass's sets, playing a handful of country covers.
This year, though, Morris wanted to do something a little more personal – Bentley joined the group Sunday to play "Fiddlin' Around," a song Bentley recorded for his 2010 album "Up on the Ridge" with Jeff Austin of the Yonder Mountain String Band, who died earlier this summer.
"You'll always have a home here (at Seven Peaks)," Bentley told the band on the Whiskey Row stage.
To that Morris said "I'm really happy to be a part of it ... It's probably the most professional venue I've ever been a part of."
This year, Seven Peaks expanded to fulfill one of the stated goals of promoter Brian O'Connell, Live Nation's head of Country Touring: To transform Selby's hayfield into something more than just a place to passively see music.
Right over there on the mountain beach
Not only were the impromptu RV cities in both the east meadow and the camping area "up on the ridge" filled with fans hanging out and playing games, but the Meadows' beach was further utilized as the site of a dance party lead by Bentley's hypeman, DJ AYDAMN.
The quaint pond fed by Cottonwood Creek transformed into a profusion of gigantic flamingo floats and dancers on the island "Somewhere on a Beach" stage from about noon to the beginning of main stage programming at 3 p.m..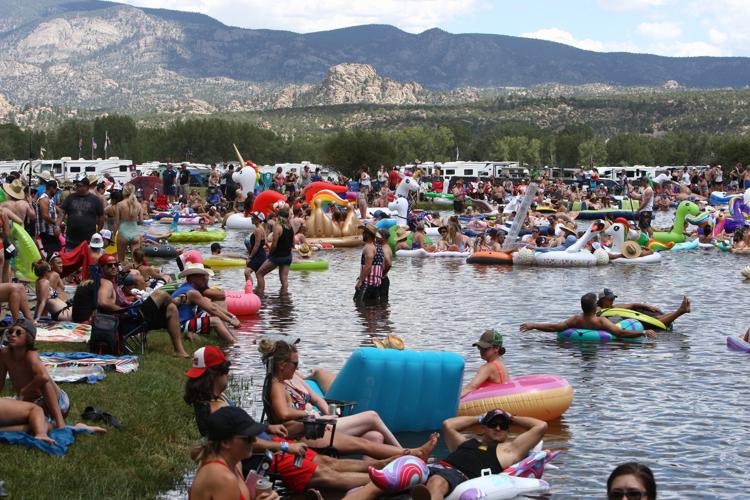 "We were just down at the Somewhere on a Beach Stage a couple days ago and nobody was there, and I thought, hopefully they come. Then I saw a picture of a bride and groom rising out of the water hand in hand," Bentley said during his 4:20 address. "Somebody got married, in a full dress and tuxedo, at the Somewhere on a Beach Stage."
In addition, the festival sold out of its adventure offerings, allowing attendees to take in the beauty of the Arkansas Valley with ATV tours, rafting and kayaking trips.
Fiddlin' around with the festival kids
Rapidgrass fiddle player Coleman Smith, the founder of Coletrain Music Academy in Buena Vista, held daily classes for kids looking to get into playing an instrument, with Coletrain teachers like Bonnie Culpepper using small instruments like mandolins and ukeleles to teach basic music concepts.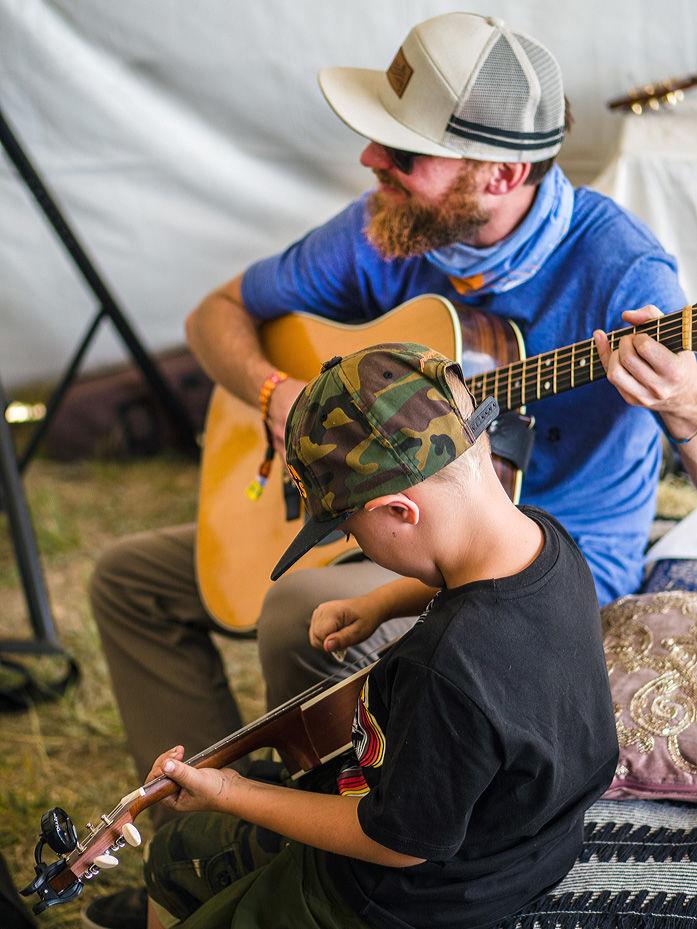 Friday and Saturday, the Coletrain kids tent also held group jams for kids.
Smith's partner Robin Vega said the tent, which also held a space at the family-friendly Campout for a Cause festival, had been a success and that Live Nation had invited the school back next year.
'Large volume' of traffic crawled in and back out again
Traffic entering the venue was backed up along Buena Vista's side roads into the afternoon Friday as a caravan of RVs from across the country lined up to enter the festival grounds from Crossman Avenue.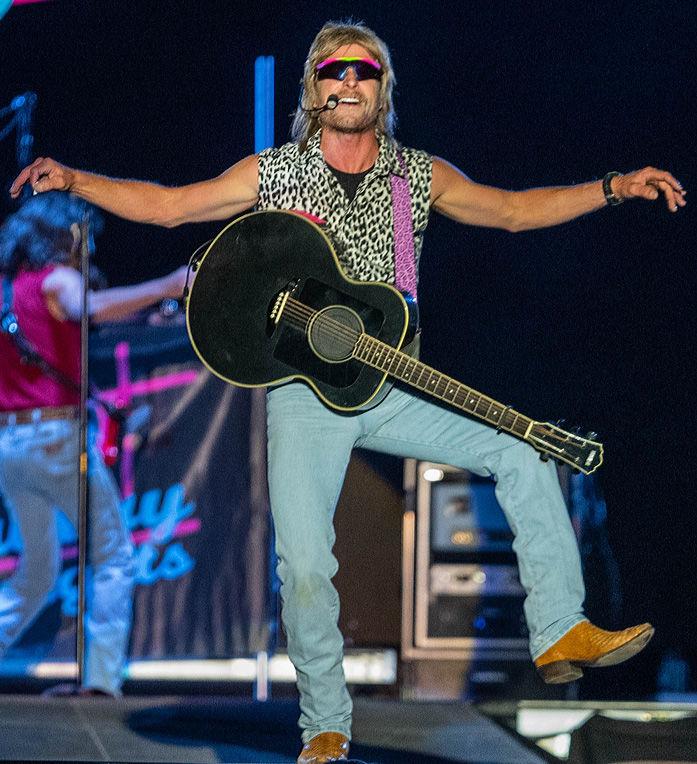 Spezze said that vehicles were lining the sides of the road before the grounds opened and were directed to park in the rodeo grounds as a staging area late Thursday.
Buena Vista town administrator Phillip Puckett said that, while the decision to stage vehicles at the Rodeo Grounds was made on the fly this year, he would insist upon it as a component of the traffic plan in the future.
On Monday morning as well, the mass exit of festivalgoers caused backups in town on U.S. 24, he said.
"It's just a volume thing," Spezze said. "It's like a football game in Denver, it's just a large volume of people. It's going to take time to get them through … Traffic is going to be something we have to keep working on, because that's what impacts the town the most.
'Few incidents' inside, debriefing in 2 weeks
Inside the festival grounds, Spezze said there were few incidents. Four arrests were made on site, all for minor misdemeanors, he said.
CCSO, as well as several other surrounding agencies providing mutual aid, had to support Live Nation as several employees the promoter had hired for security failed to show up for duty, Spezze said.
Baker said that in about 2 weeks the commissioners, Seven Peaks staff and public safety officials in the county will gather for an open debriefing session.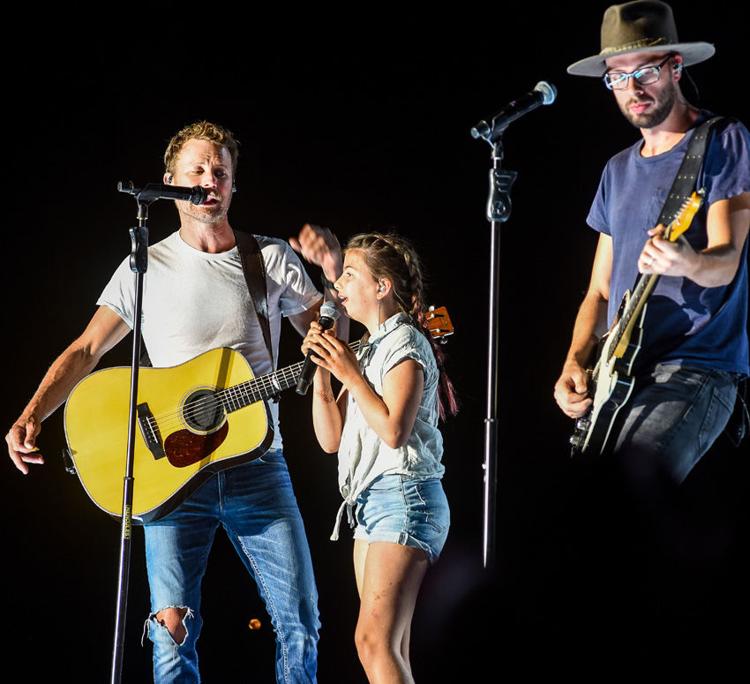 Baker said he received "a few complaints about sound levels Saturday night," but that those complaints were addressed and "residents and neighbors seemed to be happy with Sunday night."
All in all, Spezze said, for the event to remain peaceful and orderly even as it grew in attendance "speaks well of the audience."
"I've worked a lot of venues, and this is a good venue," he said.
Selby said that the Meadows still offers a lot of room for the festival to grow, and that the organizers are already compiling a checklist of improvements for 2020.
"We're just plugging away," Selby said, "making the site more usable year after year."
Baker anticipated that Live Nation would file for another Special Event Permit next year, and that it was likely they would seek a higher attendance cap.