A solar garden concept that took root in Buena Vista recently will see the light of day through Sangre de Cristo Electric Association's Trout Creek solar power plant. Eventually.
Sangre de Cristo CEO Paul Erickson said that the company still intends to one day implement Buena Vista Solar Share's community solar vision, but the billing logistics and complex contracts that came with its new field of solar panels means that it may take longer than expected to implement.
"It's going to take us a long time to figure out how to do community solar," Erickson said. "It's not a question of if, it's a question of when. I can almost assure you it's going to happen, but it's not going to be this year."
The community solar idea presented by Sue Greiner in 2017 suggested a 100 KW array that would be built by a third-party developer near the Rodeo Grounds. Community members would buy a share of the array – like a plot in a community garden – and own the energy generated from it, receiving credits on their electric bill.
SDCEA says that 4.7 percent of the energy that powers the homes of its customers will be generated by the Trout Creek Solar Farm, bringing the total proportion of its power sources that are renewable, including the power it purchases wholesale from Tri-State Generation and Transmission, to 40 percent.
Some people want more of their energy to come from renewables than that, Greiner said, and they're willing to pay for it.
The concept of a community solar garden is ideal, Greiner said, for people who want solar but can't afford the initial investment of rooftop power cells, don't have the space for the cells, those who rent or those who live in shaded areas.
Greiner's Solar Share started as a comparative study of the renewable energy programs used by 11 utility companies in central Colorado, the capstone project for her Bachelor of Arts in sustainability studies she was pursuing from Colorado Mountain College in 2016.
Greiner and BV resident Eric Simons brought forward the results of a feasibility study to the town board of trustees in April 2016, suggesting 360 panels on 5 acres at the Rodeo Grounds.
Solar Share's interest survey in December 2016 through March 2017 received 262 respondents.
Of those, 85 percent were interested in getting 50 percent or more of their energy from solar power.
Fifty-nine percent said they would be willing to pay $500 or less for a yearly subscription to a community solar garden and 41 percent said they would be willing to pay $750 or more.
"What community solar is is an opportunity for people who want more," Greiner said.
Initially, Greiner's talks with SDCEA discussed a stand-alone third party project that would connect to the Sangre de Cristo grid. At some point, however, the Sangre de Cristo board "made a complete 180 and determined that it wanted control of the project's administration, offering a 500 KW carve-out of a 2 megawatt project," she said.
Greiner says that Sangre de Cristo has not been forthcoming since then in its communications with Solar Share.
"We feel we've just hit a wall with Sangre," she said.
The 2-megawatt Trout Creek Solar facility began operations in January this year, located on the property of the Colorado Department of Corrections' Buena Vista Correctional Complex. Built by juwi, Inc., the array uses a sun-tracking system to automatically keep the facility's panels pointed at the sun and will provide about 5,752 MW hours of energy.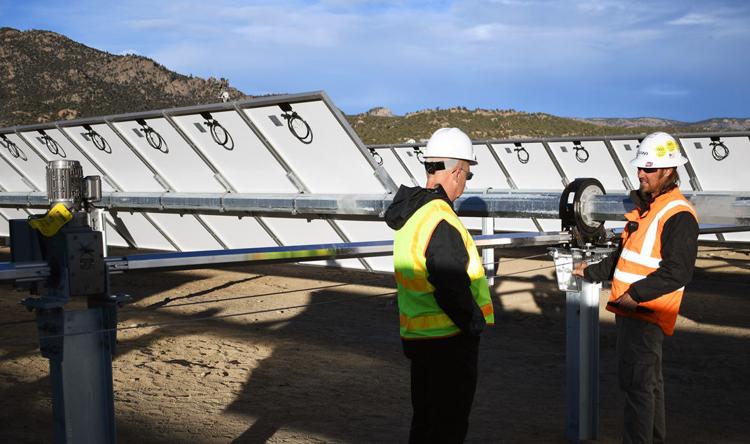 "The very first carve-out for this has to be the prison," Erickson said.
After that, the company's first obligation is to all of its customers rather than a select few who want to "drink more than everyone else" from the metaphorical fountain of energy that comes out of the plant.
Additional complexities the project presents is that the physical structure of the array and its power cells is owned by a private company and that the amount of power the plant actually produces varies constantly.
"What the power plant produces is going to be based on the sun," Erickson said. "Measuring that and assigning a percentage … it will come at a cost."
While Sangre de Cristo has said that it still intends to implement the community solar project, Greiner said that she's skeptical.
Buena Vista Solar currently has 192 people on its mailing list, she said.
"At this point it's still up in the air," Greiner said. "I'd still really love to see it."