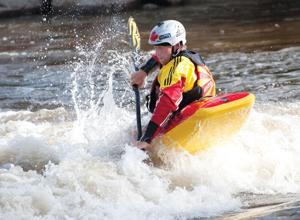 PaddleFest offers some of the earliest – and best – whitewater kayaking in the West and professionals flock to Buena Vista to take advantage of spring runoff on the Arkansas River.
Celebrating its 15th year this weekend, Buena Vista's CKS PaddleFest has experienced a meteoric rise from a small whitewater retail event to a destination weekend for families and world-class athletes alike.
PaddleFest began in 2001 as a way to kick off Colorado's whitewater season.
WEEKEND BRINGS the world's best to BV.  http://bit.ly/1KmnXdB
SCHEDULE OF EVENTS. http://bit.ly/1cQdEjQ
SIX PICKS you don't want to miss.  http://bit.ly/1R6RjgR
WOMEN IN CHARGE to take over the river. http://bit.ly/1AhAQCB
'CAN I SURF THAT' movie debuts in Buena Vista.  http://bit.ly/1INgp2W
THE RIVER ALWAYS WINS. http://bit.ly/1Hw7m3f